Ruin Falls (Hardcover)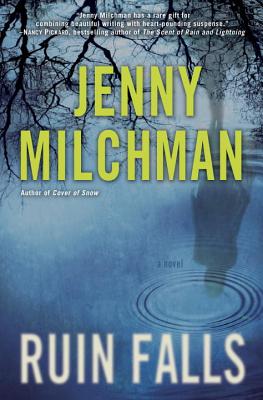 $26.00
Email or call for price
May 2014 Indie Next List
---
"In Ruin Falls Milchman continues her theme of women facing the worst that life can hand them and yet finding a way to overcome these challenges. Liz is looking forward to taking a rare family vacation to see her husband Paul's parents and letting their two children get to know their grandparents. Paul has never been an easy man to live with, but Liz loves him and tries zealously to bridge the gap between Paul's rigorous beliefs and her children's happiness. When both children go missing from their hotel room in the middle of the night, Liz has no idea who might have taken them, nor does she realize the depth of her own courage that it will take to find out. A wonderful, high-octane read!"
— Linda Dewberry, Whodunit? Books, Olympia, WA
Description
---
In a suspenseful follow-up to her critically acclaimed "Cover of Snow, " Jenny Milchman ratchets up the tension with this edge-of-your-seat story of a mother determined to find her missing children.
Liz Daniels has every reason to be happy about setting off on a rare family vacation, leaving behind her remote home in the Adirondack Mountains for a while. Instead, she feels uneasy. Her children, eight-year-old Reid and six-year-old Ally, have met their paternal grandparents only a handful of times. But Liz's husband, Paul, has decided that, despite a strained relationship with his mother and father, they should visit the farm in western New York where he spent his childhood.
On their way to the farm, the family stops at a hotel for the night. In the morning, when Liz goes to check on her sleeping children, all her anxiety comes roaring back: Ally and Reed are nowhere to be found. Blind panic slides into ice-cold terror as the hours tick by without anyone finding a trace of the kids. Soon, Paul and Liz are being interviewed by police, an Amber Alert is issued, and detectives are called in.
Frantic worry and helplessness threaten to overtake Liz's mind--but in a sudden, gut-wrenching instant she realizes that it was no stranger who slipped into the hotel room that night. Someone she trusted completely has betrayed her. Though she knows that Ally and Reid are safe, Liz will stop at nothing to find them and get them back. From her guarded in-laws' unwelcoming farmhouse to the deep woods of her own hometown, Liz follows the threads of a terrible secret to uncover a hidden world created from dreams and haunted by nightmares.
Praise for Jenny Milchman and "Ruin Falls"
" Jenny] Milchman has a gift that allows her to delve deep into the mind and psyche of her characters, and fans of dark plots like the works of Gillian Flynn will find another author to savor."--"RT Book Reviews"
"Essential for psychological thriller fanatics . . . Extreme, heart-pounding action follows this determined mother as she risks everything to save her children."--"Library Journal"
" Jenny Milchman] carves out a new niche with this unusual mix of ecothriller and family suspense drama."--"Booklist" (starred review)
"Milchman weaves a complex and intriguing tale, adeptly pacing the narrative as danger escalates. . . . Most impressive, though, is Liz's transformation from a meek wife . . . to a strong, capable woman determined to rescue her children at any cost to herself."--"Publishers Weekly"
"Absorbing from start to finish: Jenny Milchman writes a deeply felt and suspenseful story of a woman whose life is upended by a death and a dark secret."--Nancy Pickard, bestselling author of "The Scent of Rain and Lightning"
"Milchman can evoke the shadows and fears of a rural community like no one else."--"DuJour"

About the Author
---
Jenny Milchman lives in upstate New York with her family. She is the author of "Cover of Snow" and "Ruin Falls."
Praise For…
---
Advance praise for Ruin Falls
 
"[Jenny Milchman] carves out a new niche with this unusual mix of ecothriller and family suspense drama."—Booklist (starred review)
 
"Milchman weaves a complex and intriguing tale, adeptly pacing the narrative as danger escalates. . . . Most impressive, though, is Liz's transformation from a meek wife . . . to a strong, capable woman determined to rescue her children at any cost to herself."—Publishers Weekly

"The storyline is tight and suspenseful. Milchman has a gift that allows her to delve deep into the mind and psyche of her characters, and fans of dark plots like the works of Gillian Flynn will find another author to savor."—RT Book Reviews

Praise for Jenny Milchman's Cover of Snow
 
"Terrifically suspenseful . . . Reading Cover of Snow feels like racing across a frozen lake: heart-pounding, exhilarating, frightening."—Louise Penny, New York Times bestselling author of How the Light Gets In
 
"Absorbing from start to finish: Jenny Milchman writes a deeply felt and suspenseful story of a woman whose life is upended by a death and a dark secret."—Nancy Pickard, bestselling author of The Scent of Rain and Lightning
 
"Everything a great suspense novel should be—tense, emotional, mysterious, and satisfying . . . Let's hope this is the start of a long career."—Lee Child, #1 New York Times bestselling author of A Wanted Man
 
"An emotional roller-coaster ride through the darkest night, with blinding twists and occasionally fatal turns . . . a richly woven story."—Booklist (starred review)
 
"Milchman makes [readers] feel the chill right down to their bones and casts a particularly effective mood in this stylish thriller."—Kirkus Reviews
 
"Milchman tackles small-town angst where evil can simmer under the surface with a breathless energy and a feel for realistic characters."—The Seattle Times